M.E.E.T. Ministry 2009 Camp Meeting Audio CDs
"Your Redemption Draweth Nigh"
Camp Meeting was such a blessing this year. The messages are available on audio CD so that you, too, may be blessed.
CLICK ON TITLE OF MESSAGE
TO ADD TO SHOPPING CART.
Thomas Jackson

Christian Berdahl

Raymond Blackburn

Randy Skeete

Odis Anthony

Treson Francis

Calvin Howell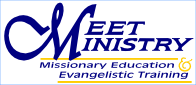 Copyright ©2012 All rights reserved.