Health Hope and Healing

"That thy way be known upon the earth, thy saving health among all nations." Psalm 67:2


M.E.E.T. Ministry conducts a series of public evangelistic meetings entitled Health, Hope and Healing. Using this remarkably effective method of public evangelism, we present the principles of health reform along with Bible Doctrines and Bible prophecy all in the framework of the Everlasting Gospel of Jesus Christ. These and other facets of Scriptural truth are presented as a coherent and connected system of truth, and their relationship to the plan of salvation is clearly defined.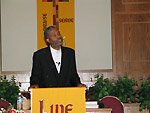 Experience has strengthened our confidence in this brilliant evangelistic strategy. We have witnessed again and again how teachings on Biblical health disarm the prejudice of many listeners and open their hearts to receive the truth of Jesus Christ and His saving grace.

This unique approach in public evangelism consists of four to six weeks of public meetings combined with home medical evangelism work, health and nutrition consultations, health risk assessments, classes on dietary transition, practical demonstrations on natural remedies, and Bible and health training classes.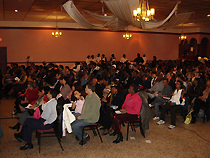 "The evangelization of the world is the work that God has given to those who go forth in His name. They are to be colaborers with Christ, revealing to those ready to perish His tender, pitying love. God calls for thousands to work for him, not by preaching to those who know the truth, going over and over the same ground, but by warning those who have never heard the last message of mercy. Work with a heart filled with an earnest longing for souls. Do medical missionary work. Thus you will gain access to the hearts of the people. The way will be prepared for more decided proclamation of the truth. You will find that relieving their physical suffering gives an opportunity to minister to their spiritual needs.

"The Lord will give you success in this work, for the gospel is the power of God unto salvation, when it is interwoven with the practical life, when it is lived and practiced. The union of Christlike work for the body and Christlike work for the soul is the true interpretation of the gospel." (White, Ellen. An Appeal for The Medical Missionary College. pp. 14, 15).

If you are interested in reaching the masses with the gospel of Jesus Christ contact M.E.E.T. Ministry for detailed information.



Telephone: 731-986-3518 E-mail: godsplan@meetministry.org