Through it's gospel health missionary training schools, seminars, study groups, and publications, M.E.E.T. seeks to provide comprehensive and practical course of study for education and training individuals, families, young men and women as workers for Christ. The purpose of M.E.E.T. is to assist such individuals in becoming efficient laborers in presenting to a dying world the final message of warning as brought to view in Revelation 14:6-12.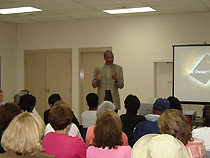 M.E.E.T.'s educational ministries are uniquely designed to help student missionaries realize and develop their God-given abilities. Students are equipped with tools that will maximize their potential for ministry and enhance their personal development spiritually, mentally, and physically.

Our Ministry strives to make our educational services available to all who share our passion for service. Our diverse instructional programming is suitable for all audiences including: small groups, churches, civic groups, community organizations and schools. Please contact us to see if our training right for you!