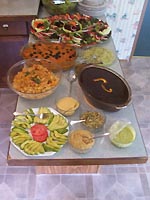 OUR HOME welcomes you as a health guest through a supervised 18-day live-in program, implementing GOD'S PLAN so that you can experience God's restoration power for you--body, mind and spirit. The program entails the cleansing of the body first. The body is then gradually strengthened and restored to start you on your new pathway to health and happiness. This process is accompanied with a healthy vegetarian fare and therapeutic treatments specifically designed to meet your individual needs. To enhance the understanding of your new life-style, classes on health, nutrition, stress, and cooking are presented to help you better understand how your body works. Learning how to incorporate the eight laws of health can change your life.

OUR HOME program is designed to assist with the following health conditions:



HIV
Cancer
Arthritis
Allergies
Smoking
Diabetes
Constipation
Digestive Disorders
Stress Management
Weight Management
High Blood Pressure
Other Related Health Conditions



Click HERE for session dates.